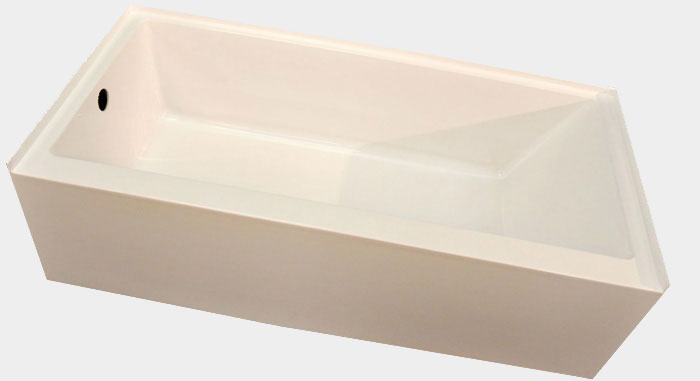 The Serenity Tub by Brak
MODEL: BKTB-100-LH & BKTB-100-RH
$1,600.00Select options
The Serenity Tub – A revolutionary bathtub design just for you.
Our patented tub has been re-shaped based on people standing in the tub. Since the bottom of the tub is flat, the sides are straight and with the "undercut" you can step out of your bathtub comfortably and easily. A traditional tub forces you have to step back where the curve ends and straddle out of the tub where your feet are too far apart. Exiting a tub in this manner causes many slip and fall accidents. Our tub allows you to step underneath the "undercut" as your toe and heel are very close together. Your body positioned vertically and your weight is distributed evenly so you won't get off balance.
PURCHASE WITH CONFIDENCE
Why spend the same amount of money on a traditional tub, when you can get the Serenity Tub for the same price?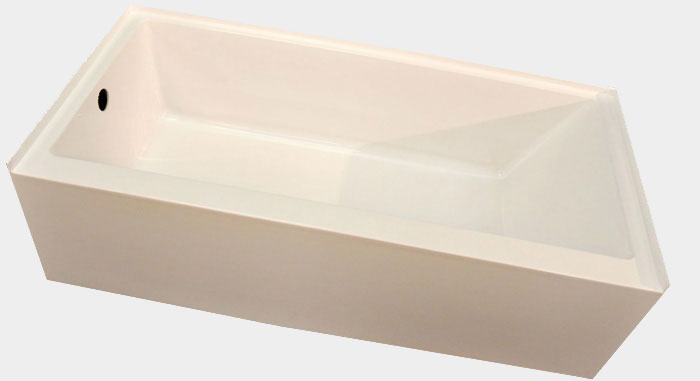 HIGH GLOSS ACRYLIC SURFACE
Why we use acrylic.
If you go back to the history in the materials that were used for making a tub, it has improved immensely. Tubs were first made of heavy cast iron and then subsequently of steel. The problem with cast iron and steel is that when you fill a tub with hot water, the materials are heated up first, and all of the heat is taken out of the water. Today, bathtubs are made out of acrylic, which is a pliable plastic that is very strong reinforced with fiberglass and resin. Acrylic with its fiberglass backing is an insulator, so when you put hot water in your tub, it will stay hot.
MORE FLOOR SPACE
The flat bottom design of the Serenity Tub provides 36" of flat floor space and 30% more volume than a standard alcove tub.
You can easily place a standard handicap chair in the tub, where it will rest without wobbling. The straight flat wall on the 'exit' side of the tub, allows the occupant to stand straight up in a vertical position, reducing the anxiety of reaching over in a wide stance, to exit. And the same is true when entering the tub.