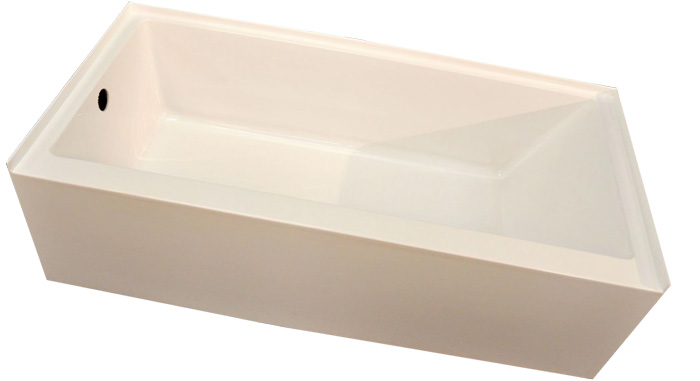 The Perfect Bathtub
Serenity Tub by BrakTub Corp is a revolutionary bathtub design that will give you much more room and accessibility.
Approximately:
30 percent more floor space
30 percent more water
Fits standard space
Serenity Tub by BrakTub Corp
Our patented tub has been re-shaped based on people standing in the tub. Since the bottom of the tub is flat, the sides are straight and with the "undercut" you can step out of your bathtub comfortably and easily. A traditional tub forces you have to step back where the curve ends and straddle out of the tub where your feet are too far apart. Exiting a tub in this manner causes many slip and fall accidents. Our tub allows you to step underneath the "undercut" as your toe and heel are very close together. Your body positioned vertically and your weight is distributed evenly so you won't get off balance.
What customers are saying about The Serenity Tub!
Brak took our dated tile walls and damaged tub out of the 1960's into the 21st century. Looks absolutely beautiful. The company was great to work with!
My name is Mike Leocadi. I am a licensed master plumber on Long Island, I have been doing plumbing for 37 years I have to comment on the ease of installation and the quality of this product. As for plumbers; it's the kind of tub that you want to install. The bottom is so solid ..no need for structo-lite and the overall tub is so solid no need for a stringer, just put your screws along the top of the stringer, connect your drain and you're good to go. As for homeowners I can tell you because of the design for a 30″inch tub you feel like you're sitting inside a 36 inch tub…it's amazing.
Excellent Customer Service
Want to know more about BrakTub? Give us a call or send us an email. We will be happy to answer any questions you have.