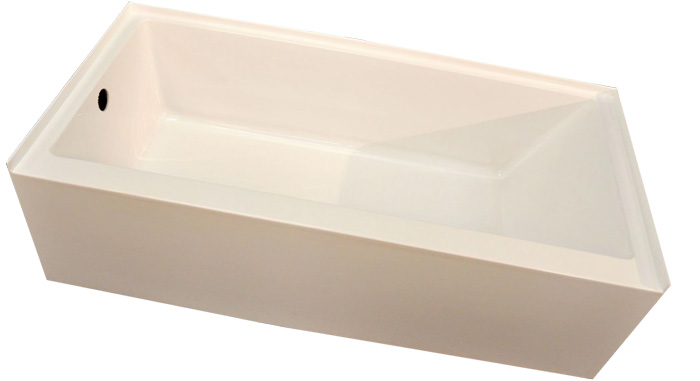 The Serenity Tub was designed to maximize the amount of space available in a standard size alcove, with a 30 x 60 inch perimeter. We narrowed the side walls, added an undercut and removed the sloping sides and curved bottom found in ) traditional tubs.
As a result of the design changes, The Serenity Tub is easier to exit. The sides and bottom are flat and we added an  undercut, the occupant can step out of the tub while maintaining a completely vertical posture, making it easier to exit. In addition, The Serenity Tub offers:
Built-in splash guard
30 Percent more floor space
30 Percent more volume
Fits a standard 30×60 alcove
Accommodates a standard handicap chair
What customers are saying about The Serenity Tub!
Brak took our dated tile walls and damaged tub out of the 1960's into the 21st century. Looks absolutely beautiful. The company was great to work with!
My name is Mike Leocadi. I am a licensed master plumber on Long Island, I have been doing plumbing for 37 years I have to comment on the ease of installation and the quality of this product. As for plumbers; it's the kind of tub that you want to install. The bottom is so solid ..no need for structo-lite and the overall tub is so solid no need for a stringer, just put your screws along the top of the stringer, connect your drain and you're good to go. As for homeowners I can tell you because of the design for a 30″inch tub you feel like you're sitting inside a 36 inch tub…it's amazing.
Excellent Customer Service
Want to know more about BrakTub? Give us a call or send us an email. We will be happy to answer any questions you have.