The Patented Design Of The Serenity Tub
The Serenity Tub has one design patent and eight utility patents. As illustrated below, the outer wall of the tub indents at the bottom, similar to the 'toe-kick' under the cabinets in your kitchen. This element makes it easier to exit the tub.
The widening of the outer wall at the top, effectively acts like a splash guard and the flat bottom permits a handicap seat to rest in place.
.

Why The Serenity Tub is the tub of the future
Here's why you won't want any other bathtub: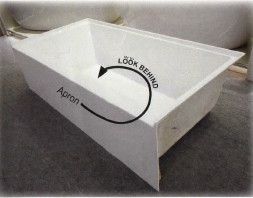 Back aching from bathing the kids? Lots of water all over the floor?
With The Serenity Tub, occupants are much closer to you while you wash them, and the design effectively acts like a splash guard, reducing overflow onto the floor.
Standard bathtubs are curved at the sides and into the center of the tub. When exiting, one foot is in the center of the tub, while the other reaches over to step outside creating a wide distance between the feet. Exiting from the Serenity Tub, it's occupant is nearly vertical without any span between the feet, making it easier to exit without losing your balance. The straight and narrower sides make it much easier to bathe children and pets.
In addition, the flat 26″ bottom will accommodate a standard handi-cap seat and allow it to rest squarely at the bottom of the tub – no wobbling
Watch our video for a demonstration of these features.
Competitively priced with more volume for water than a jucuzzi spa tub. And besides – How many times have you actually used the jets in your spa tub?
Our tub design is patented in 6 countries
You won't find a better tub out there. It literally is THE perfect tub. The BrakTub gives you so much more volume and floor space. The features and benefits of the tub make it stand out above all the rest.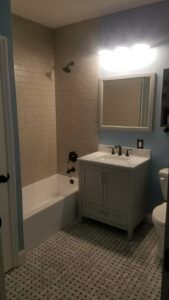 For individuals with compromised 'depth-perception' the top lip and bottom of the tub can be done in a different color Right side or Left Side plumbing, available in white and almond; commercial product with above the floor rough.